Robert T. Adkins, M.D. Memorial Scholarship
Developing World Class Paramedics In Our Community
The Ocean City Paramedic Foundation is proud to announce the creation of the Robert T. Adkins, M.D. Memorial Scholarship. This will provide financial assistance, for educational purposes, to those wishing to enter the field of Emergency Medical Services (EMS) and for those currently employed in the field of EMS desiring to advance their certification, inclusive of a Management Degree in a related field of study.
Available Scholarship Categories:
Category One is for those applicants wishing to pursue certification as an EMT. Awards of $1,000 each will be made to members (either full time or part time) of the Ocean City Fire Company meeting the requirements.
Category Two is for those individuals currently working in the field of Emergency Medical Services within the Ocean City Fire Company and would like to advance their current certification and pursue a degree.
Scholarship Eligibility and Requirements:
Scholarships available to those affiliated with the Ocean City Fire Company
Submit a completed application
Write a 350 to 500 word essay describing your goals with respect to becoming an EMT
About Dr. Adkins
Robert T. Adkins, M.D. was very active in the development of the local emergency medical services (EMS) system for the Eastern Shore of Maryland, and was instrumental in the education and training of the medical personnel "in the field," our paramedics. He served as Medical Director for Region IV for MIEMSS EMS for many years and was awarded "EMS Physician of the Year" in 1995. He was a very active member of the Ocean City Paramedic Foundation, acting not only as a liaison between the Foundation and the Ocean City Paramedic (OCFD), but also providing guidance to the fiscal operation of the foundation. He served as the president of the foundation in 2000-2001. We are proud to honor his legacy by naming this scholarship after him.
Past Award Recipients
We are pleased to announce that scholarships have been awarded to four applicants in 2015. The total value of the scholarships is $13,000. This year's recipients are Ryan Whittington, Parker Shandrowsky, Ryan Bolger and Travis Hearn. All four scholarship award winners are affiliated with the Ocean City Fire Company and have a strong desire to pursue the field of Emergency Medical Services.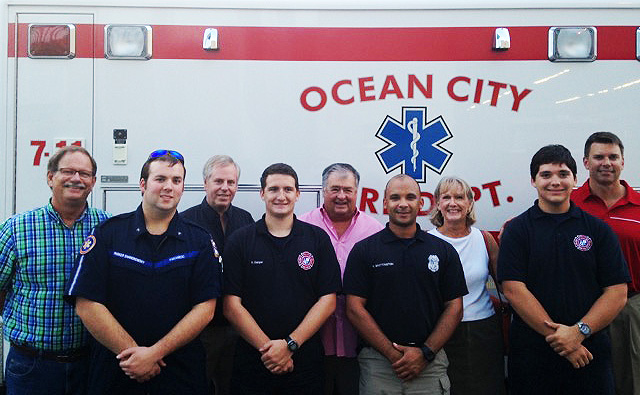 (Front Row, Left to Right): Parker Shandrowsky, Ryan Bolger, Ryan Whittington, Travis Hearn
(Back Row, Left to Right): Hal Akins, Foundation Committee Member; Jay Knerr, Scholarship Committee Chair; Buck Mann, Foundation President; Nancy Howard, Foundation Secretary; John Gehrig, Foundation Committee Member