PARAMEDIC OF THE YEAR
2018
FF/PM Ryan Cropper – 2018 Paramedic of the Year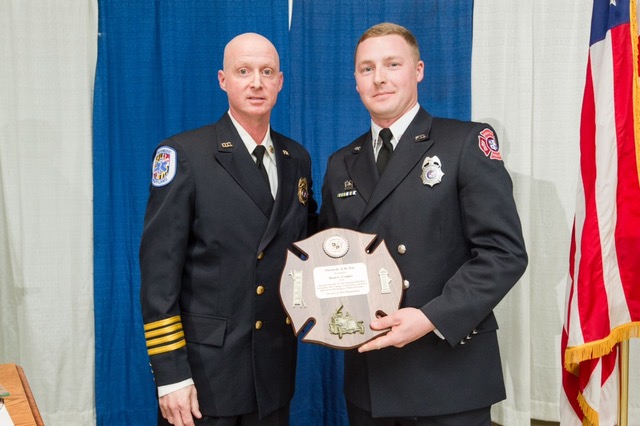 Asst. Chief Chris Shaffer presents Paramedic of the Year Award to Ryan Cropper (right)
The 2018 Paramedic of the year has, throughout his service, consistently provided superior patient care. He is an effective, professional advocate for patients and family members.
He works with his peers to always foster a positive work environment. He is a member of the Dive Team and Surf & Rescue Team. He also assists with vehicle maintenance.
He joined the Ocean City Fire Department's Career (Fire/EMS) Division on May 6, 2013 as a part-time FF/CRT. On May 22, 2017, he became a full-time FF/Paramedic.
He resides in Public Landing and is married to Ashleigh. They have three children: Liam, Fin and Corban.
It is my pleasure to announce the 2018 Paramedic of the Year: FF/PM Ryan Cropper.