PARAMEDIC OF THE YEAR
2020
Steve Twilley – 2020 Paramedic of the Year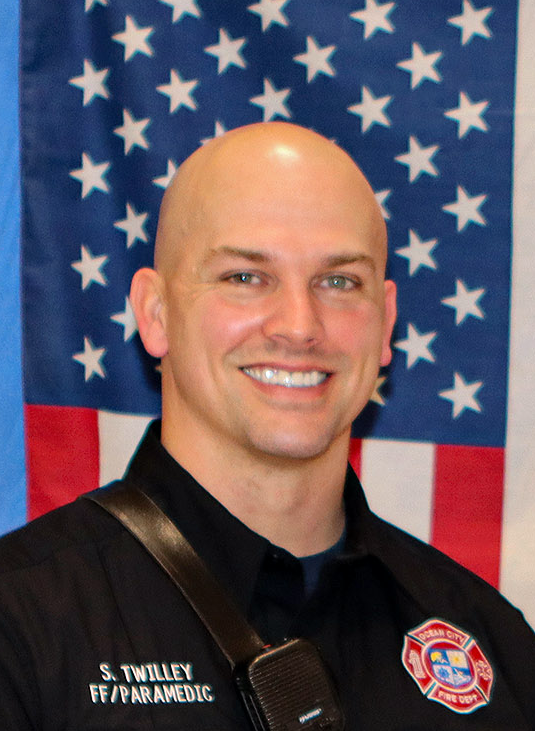 Steve was hired on 6/2/2003 as a Temporary Firefighter/EMT III. He became a Full-time Firefighter/EMT IV on 11/27/2006.
He is a member of the Ocean City Rescue Swimmer and Dive Team.
Steve has continued his education and has received an Associate's degree Applies Since Paramedic form Anne Arundel Community College. An Associate's degree in Nursing from Chesapeake College and a BSN from Del-Tech. He is currently working on his MSN for Nurse Practitioner from Spring Arbor College.
Throughout Steve's career he has received several Awards & Citations received for exemplary performance, outstanding teamwork and resuscitation efforts during his career with the Ocean City Fire Department.
Most recently, Steve has been instrumental in the Worcester County Health Department/Ocean City Fire Department joint venture with the COVID-19 pandemic and vaccine program.
Steve states "I enjoy working for the Ocean City Fire Department because it is dynamic. No two shifts are the same. I love to people I work with, and the department provides excellent opportunities to increase your education and training. I have a chance to help the public and my colleagues every shift, and I can learn just as much from them. Ocean City Fire Department is a great department to grow as a provider."
As detailed above, Steve is most deserving of the award of Paramedic of the Year. He is a dedicated, highly-qualified member of the Ocean City Fire Department and we look forward to Steve's continued employment and growth.